Comprehensive Exam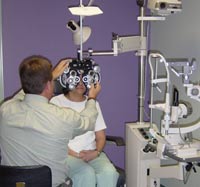 Our comprehensive examination consists of a thorough computer aided exam usually lasting 45-60 minutes. Our Doctors check for eye diseases such as glaucoma, cataracts, and macular degeneration. Eye drops may be used to dilate the pupil allowing for a complete examination of the internal eye. Also included in the exam are color vision testing, visual field analysis, blood pressure, depth perception testing, astigmatism measurements and refraction.
Contact Lens Evaluation
There are several different measurements and observations made during a contact lens evaluation. This is because an eye that wears a contact lens is subject to wear and tear from having a contact lens on it. The following things must be evaluated to ensure eye health and continued contact lens wearing success: cornea shape, clarity and reflectivity, tear integrity, cornea surface dryness, eyelid changes, how the lens centers on the eye, how the lens moves with blinking, and converting a prescription from where glasses sit in front of the eye to the surface of the eye. A contact lens evaluation is just the start. Follow-up visits may be necessary to obtain good vision, proper fit and comfort.
Treatment of Eye Diseases
Your vision is our primary concern. If you are diagnosed with an eye disease, you want only the best treatment available. Based on your diagnosis, we may recommend a variety of options including prescription medications or medical procedures. If necessary we will refer you to the appropriate specialist for procedures such as cataract surgery and retina repair. For patients with diabetes, we keep your primary care physician updated on your eye health and can refer you to a specialist if you have diabetic complications in your eyes.
Refractive Surgery
We offer pre and post-operative care for patients interested in undergoing refractive surgery (LASIK). We are affiliated with several qualified surgeons including Dr. Linda Auer and TLC Laser Eye Centers in Chicago.
Nursing Home Eye Care
I. Objective
Professional Eyecare Center provides comprehensive eyecare to the patient in the hospital or nursing home settings. Portable equipment allows the doctor to come to the facility where the patient resides, minimizing travel outside the patient's normal environment. Not having to take residents from the facility to an eyecare office saves time and money for the nursing facility and families in transportation costs and nursing facility or family time in transporting and sitting at the eyecare facility.
Our doctor provides the most up-to-date care and, at the same time, provides concern for each patient as an individual. Every attempt is made to meet the individual needs of each resident.
II. Comprehensive Eye Examination
Professional Eyecare Center provides careful determination of proper eyewear (frames and lenses) if necessary for the patient. In addition, testing for impairing conditions, such as cataracts, glaucoma, and macular degeneration as well as other eye problems due to diabetes or hypertension is done. Pupils are dilated at each visit to allow complete examination of the interior of the eye.
A comprehensive review of each resident's general health history and ocular history is obtained. In addition, the doctor reviews all medications the patient is taking to assess side effects and provide recommendations to the resident's primary care physician when necessary.
Nursing facility residents are typically examined two times per year. One visit consists of a complete annual examination and the second visit, if needed, allows the doctor to follow and monitor any abnormal findings. Glaucoma testing is done at all visits.
Professional Eyecare Center utilizes a referral network of other physicians and eyecare specialists in the local area so that if needed, further specialized care such as cataract surgery or laser surgery can be provided close to the patient's area of residence.
Medical management and treatment of glaucoma, eye infections and eye inflammations can often be managed by our doctor in the nursing facility in most cases.
Low vision examinations (examinations of the partially sighted or severely vision impaired patient) are also available to residents at the nursing facility. A full range of West German and English magnifiers, as well as other specialized vision aids are available for demonstration.
III. Cost
Professional Eyecare Center accepts Medicare, supplemental insurance, and Public Aid as payment for services. There is never any out-of-pocket charge for professional services for recipients of Illinois Public Aid. Medicare does require that we bill private pay patients for the balance on their annual deductible and co-payment after receipt of both Medicare and supplement insurance fees. However, it is our intention that no services are denied due to hardship. Please contact us if financial hardship does exist so that we may consider partially or completely waiving any balances.
---